10 Places in Vienna You've Never Been To

Marie Amenitsch
Vom 01.06.2019
"For this post, we wandered off the beaten path for you, exploring parts unknown in and around Vienna. We'll prove that this city has so much more to offer than well-known restaurants, cafés and tourist attractions by following the trail of myths, secrets and times gone by. That said, we proudly present ten underrated places in Vienna that you've never been to!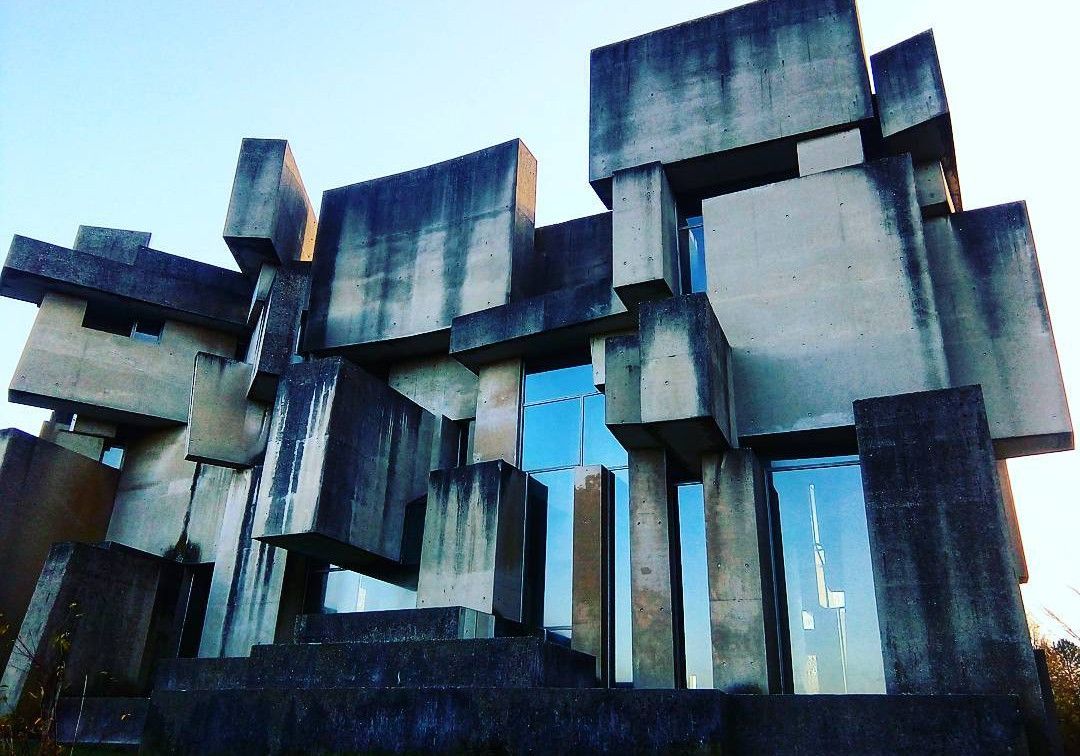 Discover some hidden places in Vienna, you've never been to before!
Alberner Hafen
The Albern harbor is a place that we suppose only very few of you have seen before, and we were more than surprised as we made our way to the backmost corner of Simmering – practically bordering on Schwechat. Full disclosure: getting there by public transportation is a little bit of a hassle, which is why we decided to take our bikes along the Danube past the Freudenauer harbor; doing so allowed us to reach our destination quite well. It's eerily quiet here and you almost feel like you've landed on a movie set. The harbor itself with its toweringgranaries is reminiscent of gangways in Hamburg and dates back to national socialist times.
Friedhof der Namenlosen
If you hike a bit further, you'll reach the "Cemetery of the Nameless", which you may have seen in the popular Hollywood movie "Before Sunrise." Concealed behind trees and bushes, it's worth exploring, but it can get quite spooky when the fog covers the area like a veil.
Sternwartepark
The University of Vienna is well known for its beautiful premises, impressive stairwells and corridors, and Hogwartsesque libraries. More remote, but all the more special, is the faculty of astronomy and astrophysics in the 18th district, which feels like stepping into another world entirely. The building's interiors as well as the spacious park have a very mystical allure, so the next time you find yourself in the cottage quarter, turn your back on the Türkenschanze and take in this unusual place.
Böhmischer Prater
If you wander along the paths of the Böhmischer Prater, located on Laaer Berg on the edge of the Laaer Wald in the 10th district, you'll find yourself in a quaint and charming surroundings. Just like the Wiener Prater, they have a Ferris wheel, the first ever worldwide that was built with a single mast. At 25.1 meters, you get a great panoramic view of Vienna all the way up to the Wienerwald, Kahlenberg and Schneeberg. It's perhaps most magical in the fall, when everything glows in a sea of warm colors and the atmosphere is especially cozy, to the delight of all ages.
Museum für Schwangerschaftsabbruch und Verhütung (Museum of Abortion and Birth Control)
No, this is not an April Fool's joke: this museum is real and takes you on a highly informative tour of the history of birth control. From ancient Egypt to modern methods, it gives vast insight into the practices of various cultures. It also shows the evolution of the pregnancy test. The most interesting part, perhaps, are the legal debates and case studies surrounding women's body autonomy and the right to abortion.
Mariahilfer Gürtel 37/1, 1st floor, 1150
Jugendstiltoilette
An absolute highlight you can find in almost every travel guide! Built in 1905 alongside 50 other underground comfort stations for both genders in an effort to improve the city's hygiene, this palatial Jugendstil bathroom on Graben was the first and is a historical monument.Still in use, you can access the relatively hidden cellar via entrances that are strictly divided by gender and seemingly go back to a time long forgotten. 50 cents allow you to marvel at typical art nouveau tones, shapes and materials like oak, brass and glass – all clean and pristine.
Graben 22, 1010
krypt.
The well-concealed bar krypt can't be missing on our list of cool, undiscovered locations in Vienna. Ring the bell and descend eight meters below ground to be greeted with a glass of bubbly. Once you arrive, the dim atmosphere of the vault will put you under its spell. Its interior marks it as one of the nicest bars in town, with sparkly chandeliers, stylish designer furniture and black herringbone-marble floors. Another big plus are the moderate prices, especially considering the superior quality of their drinks. They don't take reservations, so make sure to be there early. They open at 6pm on Wednesdays and Thursdays, and 8pm on Fridays and Saturdays.
Wasagasse 17, 1090
Kunsteisbahn Engelmanns
Ice-skating above the city's rooftops? It's possible at Kunsteisbahn Engelmann in the 17th district, which has been in business since 1909. Its skating rink was considered a groundbreaking invention back then and remains popular with people of all ages. This year, it stayed open until March 12, but you can still visit in summertime, when it converts to Vienna's highest soccer field.
Schirmfachgeschäft Brigitte
Right by Schwedenplatz in the heart of Vienna, this traditional specialized shop has been selling umbrellas for over 100 years. They stock a large, high-quality selection by Doppler and Knirps, and treat every customer like royalty. All the classic brollies will make you feel like you traveled back in time by a couple of decades.
Franz-Josefs-Kai 27, 1010
Wotrubakirche
Right in the middle of the 23rd district, Liesing, this church will catch your attention with its one-of-a-kind architecture. Built between 1974 and 1976, the Roman-Catholic Wotruba Church was designed by sculptor Fritz Wotruba and built according to plans by architect Fritz Gerhard Mayr. It's notable for being fashioned from 152 concrete blocks, which give off interesting light patterns on the inside. If you want to see for yourself, take the S-Bahn to Liesing and then take bus 60A to Lindauergasse.
Ottillingerplatz 1, 1230
Looking for new locations and experiences? Our blog has lots of useful information, event tips and culinary highlights. We constantly update our content, which is just waiting to convince you of Vienna's diverse opportunities.
(c) Beitragsbild | rainerzeit | Instagram